B My Name Is Boy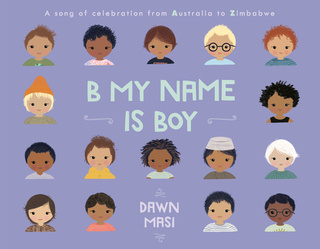 Written by Dawn Masi
Illustrated by Dawn Masi
A joyful, diverse, alphabetic picture book celebrating boys around the world.
A, my name is ARCHIE, and my brother's name is ARLO. We come from AUSTRALIA, and we can ADVOCATE.
Boys from 26 different countries—Australia to Zimbabwe—are celebrated in this alphabetical tribute to global boyhood. Children will enjoy reading about each boy's name, country, and favorite activity, while learning how we are all connected. This inspiring, multicultural, kindhearted, and empowering book will let every boy feel seen and loved.
Globally-minded kids can also find the countries on a map at the back of the book and dream of places they'd like to visit.
Don't miss the companion story: G My Name Is Girl.