Bear Builds a House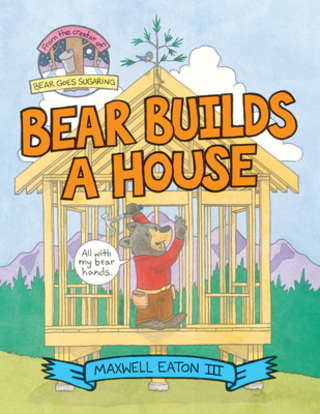 Written by Maxwell Eaton III
Illustrated by Maxwell Eaton III
Bear's next project is her most ambitious one yet, she's going to build a house! But can she and her friends finish before winter sets in?
The bear from Maxwell Eaton's Bear Goes Sugaring returns in this fascinating follow-up, and this time, she's going to build a house entirely from scratch! To do so, she'll need time, careful planning, sturdy materials, and a whole lot of help from. . . most of her friends.
Readers will see a house built before their very eyes as they are guided through detailed descriptions of each step in the construction process, from site selection, to chopping trees to make wooden planks, to laying down foundations, insulation, and power and plumbing. Key to the process is Bear's attention to sustainable architecture, an excellent lesson for kids who want to learn about clean energy and sustainable planning.
As in Bear Goes Sugaring, readers will love Maxwell Eaton's humorous approach to a serious subject and the antics and funny dialogue that Bear's animal cohorts contribute.