Oh, Olive!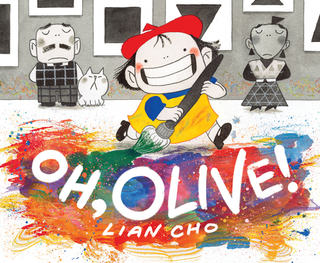 Written by Lian Cho
Illustrated by Lian Cho
"Irrepressible. Joyful. Vibrant and full of oomph!" —Andrea Beaty, #1 New York Times bestselling author of Rosie Revere, Engineer
"A stunning, energetic story full of clever humor, heart, and a reminder that art has no boundaries." —Ruth Chan, author-illustrator of Thank You, Neighbor
Debut author-illustrator Lian Cho delivers a hilariously cheeky picture book that celebrates the creativity of a young girl who breaks from the rigid traditions of her famous artist parents to make a colorful splash in her own unique style.
Presenting Olive Chen! The most magnificent and brilliant artist in the whole wide world! Her parents are also artists—serious artists—who paint prim, proper, perfect shapes. They know Olive has the talent to follow in their footsteps. But Olive likes to smear, splatter, splash, and even lick. With a brush in each hand, Olive cascades through town with her friends in tow, painting what she wants to, what she feels—until she reaches her parents' pristine art museum…