The Final Cut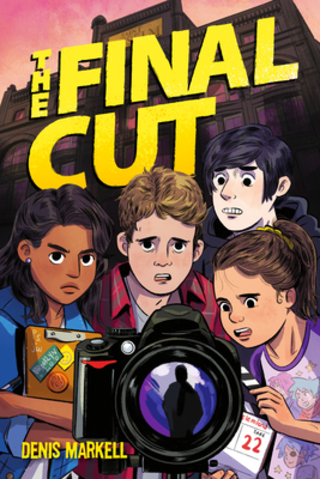 Written by Denis Markell
An hilarious coming-of-age story about home, friendship, and learning that sometimes the most exciting adventures happen behind-the-scenes.
Alex Davis is convinced that seventh grade is going to be his year. After spending all summer at skate camp, he knows he'll finally be seen as one of the "cool kids" . . . until he's mistakenly put in the wrong elective. Now, instead of taking a popular video games class with his friends, he's stuck in Filmmaking with hipster teacher Pablo and a group of eccentric classmates.
But when it's announced that their films will be entered in the school's annual Golden Reel competition, Alex becomes determined to claim first prize and salvage his seventh-grade year.
With the help of his longtime crush, his best friend, and a peculiar new student, Alex sets out to make a masterpiece. Soon he discovers that someone is trying to sabotage his film and finds himself embroiled in a mystery—one that leads him and his crew to conniving classmates, traitorous teachers, and even corrupt city politicians!